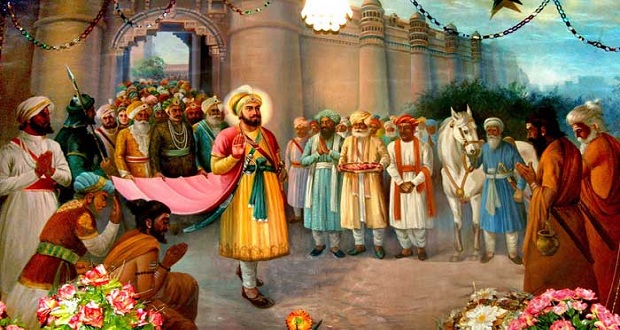 Diwali is a significant religious festival in Sikhi, Hinduism and Jainism. It is also popularly known as the "Festival of Lights" and is a lunar-calendar based event that occurs between mid-October and mid-November.
Sikhs do not solely celebrate Diwali for the same reason as other faiths, although the story of Diwali is celebrated for its spiritual significance. Sikhs celebrate Bandi Shor Divas (often translated as Prisoner Release Day and spelled in different ways) on Diwali. This is the occasion of the return of the sixth Guru, Guru Hargobind Sahib Ji, who was freed from imprisonment in 1619. Guru Ji arrived home to His followers around the time of Diwali, which has long been a national holiday in India.
For the full story on why Guru Ji was imprisoned and the significance of Bandhi Shor Divas, see here.
How do Sikhs celebrate Diwali?
Sikhs will go to the Gurdwara and remember Guru Ji through prayer and meditation. Sikhs will also light divas and set off fireworks, which is the traditional manner of celebration for the "festival of lights" and also has its own spiritual significance.
Significance of Bandi Shor Divas today
When Guru Hargobind Sahib Ji was granted release from prison, He refused to leave until 52 Hindu political prisoners were also released by Emperor Jahangir.
Jahangir agreed to release as many as could hold onto Guru Ji's robe. For this reason, Guru Ji had a special robe made with 52 tails, allowing all the 52 political prisoners with Him. This is still available to see in a Gurdwara in Amritsar, Punjab.
Today many political prisoners – including hundreds of Sikhs – are still languishing in Indian jails. Many of these prisoners have served life sentences and yet still remain in jail, without explanation as to why.
For more information on Sikh political prisoners, check out the work of Sikh Relief.